Instagram is one of the most popular social networks around the world, in fact, for many content creators it has become a platform with which to earn a living. For this, there are applications that, without a doubt, make things much easier for you, this is the case of the apps that we are going to talk about below, with which you can plan your feed like a true professional.
Take these factors into account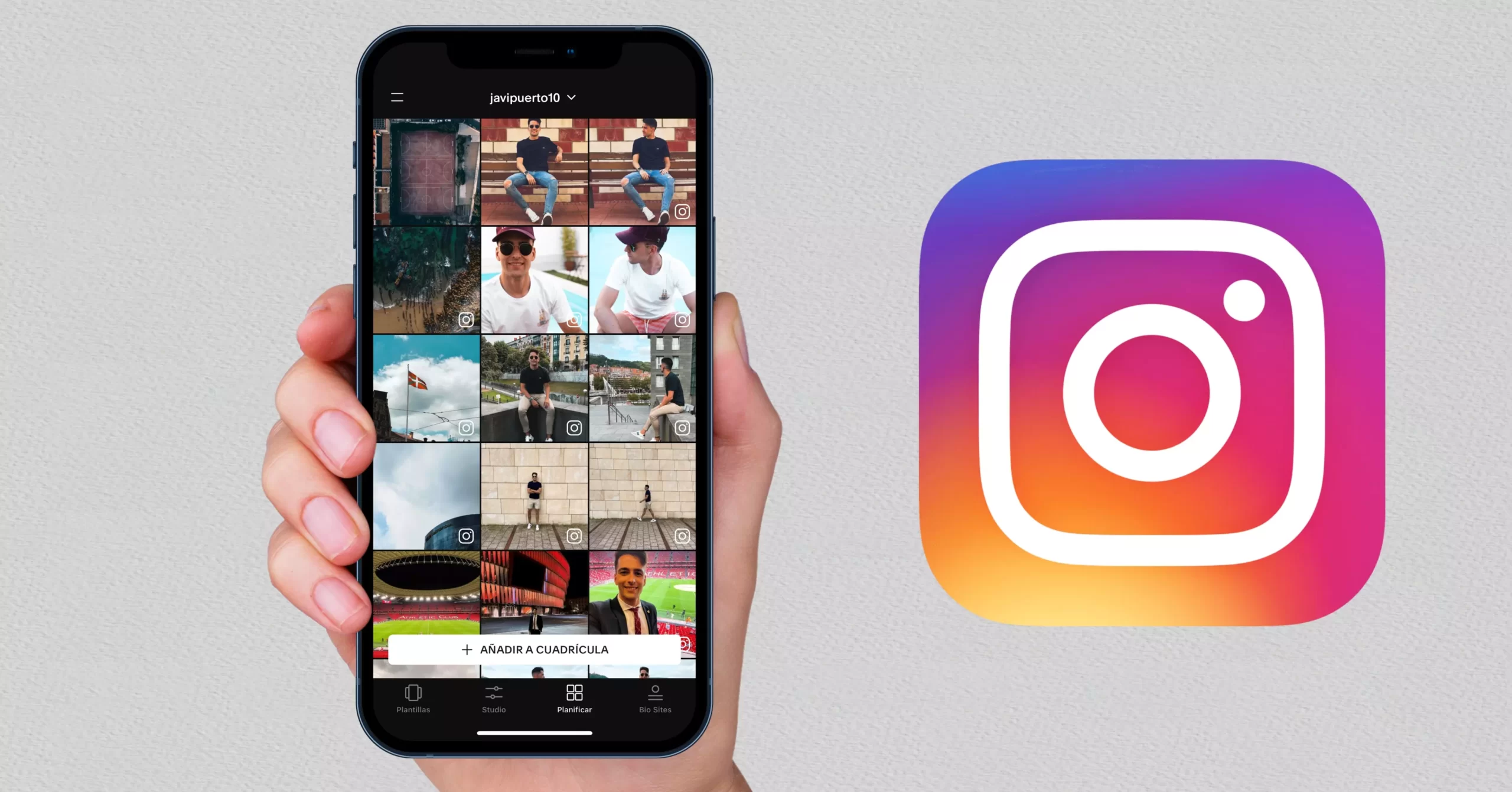 Before going fully into talking about each and every one of the applications, you have to know what are the points to keep in mind whenever you want to use an application to plan your Instagram feed. First of all, this practice is carried out by a multitude of content creators since, if done correctly, your Instagram account will be able to attract the attention of all types of users, even brands or companies looking for content creators. with whom to collaborate. However, not only is it worth to organize each publication properly, but the colors of these will also be those that convey the sensation that you are trying to convey. You can check all this in advance thanks to these applications. Here are several points that you have to take into account before opting for one and the other.
Intuitive interface. This is basic for any application and even more so in an Instagram planner, to be able to navigate and use its functions with ease.
Editing ability. In order to carry out a correct planning of the feed in many occasions it is necessary to try a multitude of combinations of photographs, therefore, having the ability to redo changes, move, delete and change the planning is very important.
Notices for publication. In the same way that it is important to have an attractive Instagram feed, it is also important to publish at the indicated time, therefore, having notices that remind you that you have to upload your post can be very helpful.
Connection with your Instagram account , in this way you can get a much more realistic preview.
The best ones organizing your Instagram feed
Fortunately for all content creators whose main source of followers is Instagram, there are applications for all kinds of needs in the App Store. In this case we will start talking about apps that will only and exclusively allow you to plan your feed with total comfort and ease.
Preview. Feed Plan on Instagram
This application has been thought, designed and developed to be able to offer users a way to eliminate the problems of managing and scheduling their posts on Instagram in an easy and comfortable way. It will automate and organize your entire life in the social network of photographs, and now also, of stories, those short 15-second videos.
It has a user interface that stands out for how easy it is to use , as well as tools specifically designed to make your Instagram account totally unique. You can save different drafts, write your captions in advance and perfect them, you even have the possibility of creating several versions of the same account, as well as uploading all the photos and videos you want.
Feed preview for Instagram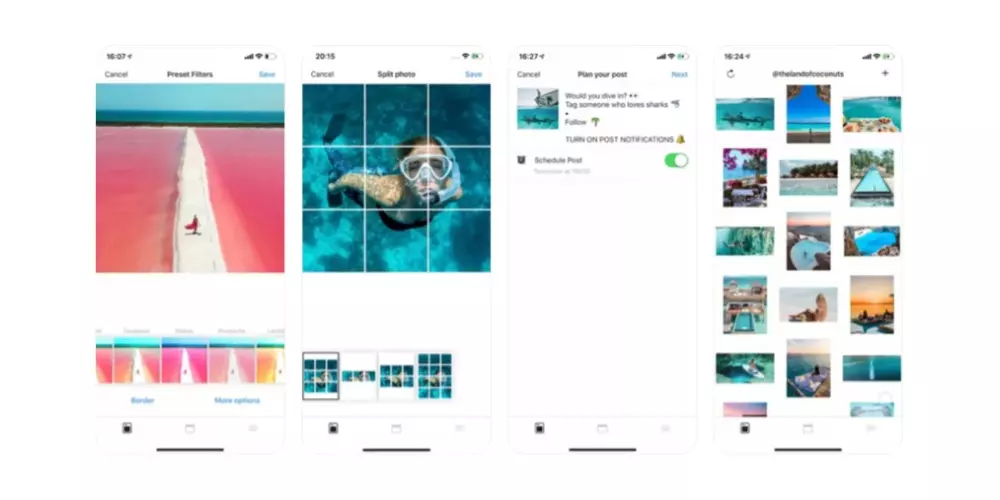 With thousands of users behind it , this application can be considered one of the most popular in the App Store to be able to give order and meaning to your Instagram posts, so that together, they are able to convey that feeling of having worked and worked on your Instagram account, something very important if you want to attract attention on this social network.
You will be able to add images, delete them, insert videos and carousels, as well as, of course, preview all of it. In addition, to be able to enjoy this app you will not have to log in with your Instagram account, but even so, you can continue to use your entire feed as a reference to be able to plan all your publications in the best possible way.
InstaPlan: Instagram Planner
As we said, being able to maintain an appropriate and attractive order of the publications you share on your Instagram account will give you a fantastic image for all those users who enter your profile for the first time. Considering that such a user can be a normal person or, who knows, a company profile looking for content creators to work with, this can make a difference.
With this app you have the opportunity to get that feed that most identifies with you , giving a feeling of professionalism and order in your account. In addition, it will allow you to search for users, see the participation in each publication, move, delete or change different posts, and all this, without the need to log into the application with your Instagram account.
Feed Preview for Insta. PLNR
Do you want to plan, edit and schedule your content for your Instagram account? This application is perfect for this since it provides you with all the functions you need to give that professional and different touch to your feed. The main factor that makes this application stand out is because it is really easy and intuitive, making it easy for any user to use it.
With it, you can upload images without any type of limit to be able to view them in the grid of your profile , since you can also synchronize your Instagram feed so that, in this way, the planning of all the posts is much more appropriate. You can also hide posts that you have already published in your account to see how your grid would look if you delete them. In short, it is a very useful tool to make a much more professional use of this social network.
Preview Instagram Feed
The first thing we have to tell you about this application is that what it seeks is to provide all users with professional tools , but in such a way that it is as easy and comfortable to use as possible. Thus, any type of user, from the most advanced to the beginning in this world, will be able to use this application and, above all, take advantage of it.
With it you can synchronize your Instagram feed , upload several images from different locations, without any limitation of space, in this way you can plan your feed or you can even delete existing publications in case you want to check what the status of your feed that way. It also provides editing tools such as different filters that you can easily apply, or even schedule posts in just two taps. Another advantage of this app is that you can switch between different Instagram accounts, ideal for Community Managers.
Garny: Social media management
Garny is an application with which you will not only have the possibility to plan your Instagram feed , but it also has the necessary tools to work with your stories . If what you want is to have your publications well organized, this application is one of the best alternatives that you can find in the Apple application store.
Plan your feed, stories to see a preview and decide which post you are going to publish before others, you can create different boards , to be able to compare them and choose the one you like the most. It also gives you the option to add post or caption reminders as well as apply different filters to your photos. Another point to take into account is the possibility of managing different accounts.
Other apps to edit photos and other functions
Once we have already talked to you about applications that are totally focused on planning the Instagram feed, it is the turn of those applications that in addition to perfectly fulfilling that function, also put more tools on the table with which to enhance even more your posts and stories on Instagram and get to the next level.
Unfold
Without a doubt, Unfold is one of those applications that every Instagram content creator must have installed on their iPhone due to the amount of functions it allows you to carry out . Initially Unfold was a mere story editor that provided you with different templates to use freely.
To this function, others have been added that have made it a real machine for all Instagramers. Not only will you be able to organize your Instagram feed within the application, but you will also be able to import all kinds of content from your brand such as logos, fonts or color palettes. It also gives you the opportunity to create different BioSites , an ideal way to show everyone your different projects from the biography of your Instagram account. In short, it is difficult to find a more complete app to enhance your profile on this social network.
PREVIEW: Planner for Instagram
We go with another application that undoubtedly brings tremendous value to all content creators thanks to the great functions it provides. As its name suggests, the main attraction is the possibility of planning the entire Instagram feed using tools that provide functions such as being able to delete, change or move posts, upload unlimited posts as well as videos or carousels.
However, it also gives the possibility of carrying out more actions that are very useful such as editing photographs, looking for the best hashtags for your publications, something very important to achieve more reach, or data that allows you to do an analysis of your face Instagram account, how can it be otherwise, to improve and reach more people.
UNUM – Design & Plan
The main attraction that UNUM provides to all users is the photo and video editor it has. Although really, within this app you will be able to find all kinds of tools to be able to generate a great personal brand image, in fact, it has thousands of users behind it , which exemplifies the great value that this application provides for all creators of content on Instagram.
With this app you can create and plan your content for Instagram and other social networks , or if you prefer, you can also use it to edit your photos and videos with the large number of editing tools it has, among which you can find different color presets , or also different templates. It will also provide you with different data that will help you to carry out an analysis of both your account and each publication you make.
PLANOLY: Plan, Schedule, Post
We are going with the last alternative in this post, which does not mean that it is inferior to the rest of the apps we have talked about. With Planoly you will be able to plan, schedule, publish and measure all the content you upload to social networks, since it will not only serve you for Instagram, but also for Pinterest, Facebook and Twitter, which will allow you to simplify all your efforts related to social marketing .
Behind him it has more than 5 million users who, without a doubt, show the great contribution and value that this application has. It is a fantastic tool to be able to keep your social networks well organized using the different functions it provides to the user, such as automatic publication, Instagram feed planning or the ability to manage different social network profiles from the same site.
What app did we like the most?
Whenever we carry out a compilation of applications, from the ITIGIC writing team we want to tell you which of all the aforementioned options seems most attractive, from our point of view, which may or may not coincide with yours, and which will obviously be conditioned by different factors.
First of all, and looking solely and exclusively at the apps to organize the Instagram feed, we are left with Preview of Instagram Feed since the interface with which it has is very attractive and intuitive, within that with all the mentioned ones you cover the needs to correctly plan an Instagram feed. On the other hand, if we want to have a more complete app, since in addition to planning the feed we also seek to have tools that enhance our profile on this social network, without a doubt we are left with Unfold , surely the most complete app you can find for work with Instagram.