We live in a world where technology is the protagonist practically every day, making people's lives a little easier and more comfortable, simplifying many tasks that previously cost more time and effort. Therefore, today we want to talk to you about 10 applications with which you can congratulate your loved ones on the birthday from your iPhone and in a very original way.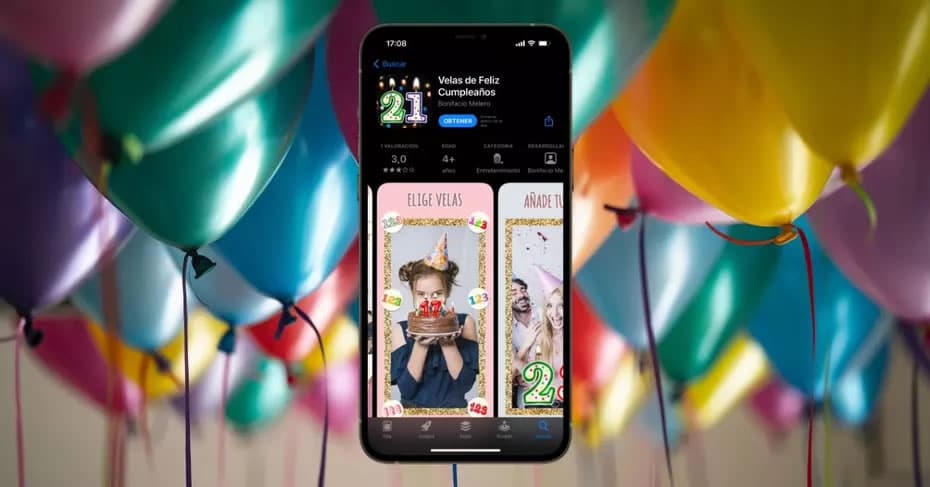 When the birthday of a relative or friend arrives, most of the people opt for the typical congratulatory message, because why not say it, it makes them so excited to receive it. On some occasions, and if the person is very special, either you work a little more that text that you are going to send or you directly opt for the phone call. However, today we want it to be the most original of all and the congratulations to be something fun and different from the usual. Next we will talk about 10 applications that you have available in the App Store of your iPhone with which you can make colorful, fun and happy birthday greetings without taking too much time or effort.
Happy Birthday Videos – Dub your video and congratulate your friends
This application offers you a very original way to congratulate your friends or family on the birthday since it has a wide variety of Happy Birthday versions that you can dub while recording yourself and later send it to that or those people. The good thing is that by having several versions you can use it as many times as you want and thus congratulate your loved ones in an original and fun way.
Birthday Reminders & Countdown to score all
With this app you will not be able to create any congratulations, but you will be able to use it to write down absolutely all the birthdays of those important people that you want to congratulate on their special day. In addition, it has fantastic widgets that you can enter on the home screen of your iPhone to know which are the closest birthdays to today and thus be able to plan the congratulations with any of the other applications in this compilation.
Original and different, Create Birthday Cards
If you want to access a wide variety of birthday greeting cards, this is your application. In addition, the cards are fully customizable, you can choose the background, add labels or stickers and write any text. Once you have finished creating your greeting you can send it in different ways, from traditional messaging applications such as by email.
Absolute prominence for Happy Birthday Candles
That special date comes as it is your birthday or that of a loved one and you have forgotten the candles, well, this app has the solution since with it you will be able to blow out the candles on your cake in a virtual way. It has a perfect design for the occasion, you just have to choose the style you like the most, enter the age of the birthday child and blow out your virtual candles. Of course, do not forget to make a wish.
Happy Birthday Video Maker, to create personalized videos
This application will help you create a spectacular happy birthday video, where you can enter images and even music to set the mood and give more emotion to this special video. It has very attractive frames for the occasion, multiple stickers and filters and most importantly, it is very easy to use.
Create birthday videos gif
If what you want is to create a personalized birthday video with gif, which also has 3D animations, stickers and songs, this is your application. Without a doubt, you can make hilarious birthday greetings that, at the very least, will bring a smile to the person you want to congratulate on their day. You can even draw on the video, a wonderful application for such special occasions.
Happy Birthday! Wishes & Cards
Are you looking for an app that gives you simple congratulations and also reminds you of the birthdays of your loved ones? Well, this application is just that since with it you will be able to keep track of all the birthdays that you write down in it and, in addition, you will have at your disposal suggestions of very suitable messages to send on such a special day for that person, such as their birthday.
Create animations in Happy Birthday Dance – Meet
One of the funniest ways to congratulate the birthday is to do it through this application that will make you dance to get a smile from that special person. But be careful, with the luck that who will dance will be the fictional character that you will put your face on, so you don't have to worry about whether you dance well or not, since this application will do everything for you.
Birthday messages if you can't think of what to say
Sometimes you have to wear something more thoughtful to write a good congratulatory message and just for that we bring you this app that provides you with much more emotional messages than normal, to serve as inspiration or even to send them as is.
Happy birthday – Photo frame for different collages
Do you want a special frame for that birthday photo? Well, look no further because this app is perfect for it since it has a wide variety of frames that will decorate all the photos of that special birthday. In addition to the frames, you can also add filters, stickers, emojis and text, to create the photo you wanted.