The manufacturer of the bitten apple marked a before and after when it presented the first Apple watch. A product that swept through sales and that, generation after generation, has taken the company to the top. And the Apple Watch Series 6 is your latest workhorse.
A smart watch that offers a simply exquisite design, along with technical characteristics that will satisfy the needs of the most demanding users. Although, this Apple smartwatch has a big problem: it is a very delicate product. And that is why you must take a series of measures if you want to keep your Apple Watch 6 in perfect condition, just like the first day.
How to take care of your Apple Watch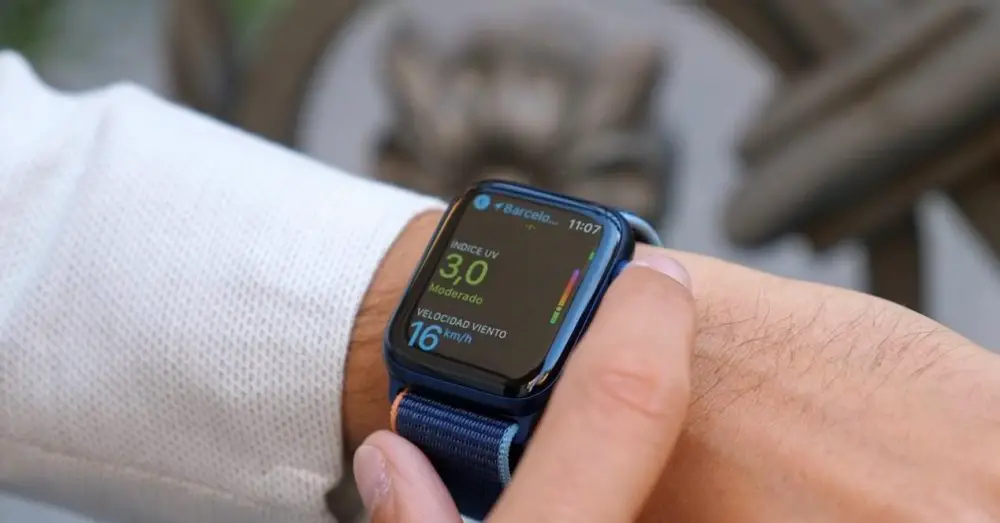 For starters, the look of the Apple Watch Series 6 is simply stunning. And for this reason you will not like that a bad hit against the wall, or those keys in your pocket, end up generating the odd scratch on the structure of this smart watch. A problem that can be avoided simply by using a case that protects the smartwatch case.
The screen of the Apple Watch 6, like that of any smart watch, is the most important element, since it will be where we will see the notifications we receive, in addition to being able to navigate through the different menus of this smartwatch. Obviously breaking the screen is a big problem, but with the passage of time some annoying scratches may appear that will not cloud the operation of the clock, but will weigh down the user experience. And yes, the solution was as simple as putting on a compatible screen protector.
Even if you have arrived too late and your smartwatch has the screen with the occasional scratch, you can use several products that will surprise you with the results they achieve. So do not hesitate to have these elements that will help you extend the life of your smartwatch, in addition to keeping the best appearance.
Options to consider
Keep in mind that there is a greater variety of accessories and products that will help take care of your Apple Watch 6 so that it remains as the first day. For this reason we have prepared a complete compilation where you will find the best options to consider if you want to take care of your smart watch so that it remains as it was just bought.
Screen protector for Apple Watch 6
We begin this compilation with the best accessories for your Apple Watch Series 6 with this transparent protector that will keep the structure of your watch in perfect condition. A very simple model to place and that will allow you to use your smartwatch calmly without having to worry about anything.
Surundo Pack for Apple Watch 6 screen
Another excellent option to consider is this other protector compatible with the Apple Watch 6. A very resistant model that stands out for its transparent glass so that you do not notice its presence while using your smart watch.
LK screen protector
Thirdly, we have a product whose purchase is a must if you have not bought a body protector for this smartwatch. We have already told you before that the Apple Watch 6 screen is the most important element, and it is also the most delicate. So nothing like a tempered glass protector to prevent a bad bump or fall from damaging the panel of your smartwatch. Without a doubt, a purchase that you should not ignore.
Charger for Apple Watch 6
Without a doubt, one of the best accessories you can buy is a replacement charger. On more than one occasion you can forget the official at home, and if you have one at work you will save yourself searching the Internet for ways to charge your Apple Watch so that you end up bundling it and turning your wearable into an expensive paperweight. And seeing its low price, it is worth buying even to leave it in the glove compartment of the car.
Stainless steel strap
Another element that should not be missing if you want to protect your Apple Watch Series 6 , is a strap in good condition. The official one that comes with the smartwatch is of great quality, but you still want to give your wearable a different touch. Of course, avoid betting on buying very cheap straps, since they will have poor quality finishes or have very little resistance.
Better bet on models that inspire more confidence, such as this complete stainless steel strap that will allow you to show off a modern and very attractive look with the assurance that your watch will be well attached.
Elastic strap
Another excellent strap that you can buy is this stretchy model. A strap that will allow you to show off a more cheerful look. And it is perfectly compatible with your Apple Watch.
Compatible strap pack
Continuing with this compilation where you will find the best accessories to protect your Apple Watch Series 6, we also want to offer you this pack of silicone straps that will delight the most athletic users. They're tough, and they have a very attractive design along with a true knockdown price.
Mistify 120ML
And what about this cleaning liquid with suede so that you can clean your smartwatch every day, preventing dirt from accumulating in the different nooks and crannies that this wearable has.
Glass Polish
Maybe you have arrived late to this compilation and the screen of your Apple Watch Series 6 has the occasional scratch that makes it aesthetically not as impressive as before. The truth is that you should not expect miracles, but this product can give you great joy. We are talking about a polisher that can achieve high results. You just have to follow the manufacturer's instructions and apply the product on the scratched area to try to solve this fault. You don't lose anything by trying it!
Sterilizer box
We close this compilation of the best accessories to take care of your smart watch with a product that should be a must for any home. We are talking about a sterilizing box that will be responsible for cleaning any object, including devices such as your Apple Watch 6 or a smartphone, from viruses and bacteria.