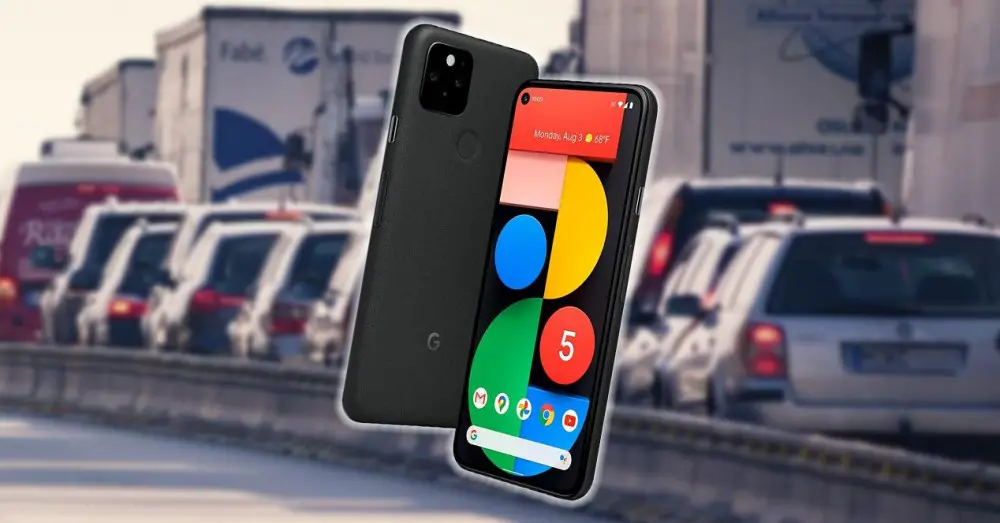 One of the points that most users look at, apart from its price, is the processor, the quality of its cameras or the screen. Key aspects that any user deigns to look at in detail before buying the phone. However, smartphones do not cease to amaze us with the different tools that we can find inside. Well, basically, they are small works of engineering, as is the case with Google phones and their interesting functionality.
We are talking about the so-called car accident detector . As you read, a feature that will be of great help to all those people who spend much of their time on the road. In addition, it is one of those unique characteristics that can save our lives at any given time.
Although before it is not available to us, as we will explain later. However, now a Pixel mobile will automatically call 112 in case we have a mishap with a vehicle. Therefore, we will show you how to activate this function from its settings.
What is accident detection
The first thing we must be clear about is that, if our phone detects that we have suffered any type of car accident or in any other vehicle , it will communicate with the emergency services fully automatically. And subsequently, you will share our location with that help. But… How does this Pixel feature really work?
Google itself has made it clear that our Pixel device makes use of our location, the different motion sensors that it has integrated and even nearby sounds to be able to detect any possible shock that we have. Therefore, it will be the mobile device itself that will determine through this method whether or not we have suffered a claim.
Then, as we said at the beginning, he will call the emergency services, sharing not only our location, but also other details of the event that we may have suffered. Unfortunately, this software tool was only compatible with Google pixel 3, 4, 4a, 4a and 5 terminals in countries such as the United States, the United Kingdom, and Australia.
However, we are already in luck, because with one of the latest updates that came to these models in June 2021, we can already count on this feature tool. And although we have had to wait a long time compared to other countries, we can finally say that we can use car accident detection .
How this Pixel tool works
In addition, we are facing those configurations or adjustments that are a clear example of how technology not only makes life more bearable and calm, but can also save it. Although, for now it is not compatible with other devices other than the Pixel. Therefore, if our mobile determines that we have suffered a serious accident with a vehicle and you have activated the detection of car accidents, it will begin to vibrate, to sound loud. Then it will ask us if we need help, both out loud and on the phone screen. And, in addition, we will have to respond in a maximum of 60 seconds.
In case you want to call the emergency services we will have to say " Emergency " or double tap the emergency button. When you do, the phone will activate the loudspeaker automatically. To be able to cancel the call, all you have to do is say " Cancel " or tap on the I'm fine option. This way, the smartphone will be able to recognize that there is no problem, so it will not make an emergency call.
In the event that you do not respond, the Pixel will automatically activate the speaker, try to call emergency services. It will also indicate that a car accident has occurred and will share your approximate location. Also, the message will be repeated, but you can speak anyway.
Activate this Pixel function on your mobile
Now it is the turn to activate the detection of car accidents in our Google terminal. To do this, we will have to open the application drawer and click on the Emergencies application. Once we are inside, we can see that we will already have the new option Activate car accident detection. If not, make sure you have the latest update available.
Then, we only have to click on Activate. And nothing to press on said switch we will see a small explanation that will explain in detail how it works. In addition, it will inform us that our Google Pixel will use the location, motion sensors and ambient sound to detect if an emergency has occurred.
Therefore, when using all these elements of our terminal, it will be necessary to accept various permissions. Such as, for example, access to our physical activity so that it can detect when we are driving or the permission to the location that we will have to allow always and not only when the application is in use. Even the permission to record audio so that the software itself can listen and analyze the ambient sound with the smartphone's microphone.
Once we have accepted each of the permissions, we can begin to enjoy this functionality feature. However, we can always test if it really works before any type of problem happens to us, as it will let us perform a demo test. So the mobile will simulate that it has detected a claim.
This feature won't always work
As we explained, it is the Pixel 3, 4, 4a, 4a (5G) and 5 models that can use this tool. Therefore, you will need the information like ours continuously, the data from the motion sensors and the nearby sounds to detect if we have had any type of accident with a vehicle.
The point is that, for all these components of the terminal to work without a problem, it is not necessary to have activated other quite famous tools such as the airplane mode of the mobile, although it is not the only example.
Therefore, you have to know that the car accident detection will not work in airplane mode , when Battery Saver is enabled or without roaming. This means, it will only work in the country of the SIM card of our smartphone. Therefore, we must bear in mind that, if we enable these functions or go to other countries, we will not be able to use this very useful tool.
Also, your phone may not be able to detect all mishaps. Basically because it is the high-impact activities that can trigger calls to emergency services. Therefore, your smartphone may not be able to make a call if we have poor coverage or if we were already in the middle of a call when the accident occurred.