It is usual that as we use our PC, its performance decreases and no longer works as fast as the first day. This slowdown is due, in large part, to the fact that every time we install and uninstall a program our equipment stores residual files without our knowledge. In the long run this leads to a considerable reduction in its speed. While this situation is annoying, it has an easy solution: clean your PC.
---
---
Windows 10 has its own tool with which you can keep unnecessary files stored on your computer at bay, however, sometimes it may be insufficient. That is why in today's article we are going to show you what we consider the best programs to clean your PC and thus accelerate and improve its performance. We hope it helps you.
Why is it advisable to download a program to clean your PC?
As we have anticipated, Windows 10 has its own cleaner thanks to which it is possible to clean your operating system. While this is useful for simple tasks such as deleting temporary files, it does not allow you to completely erase all junk files that are stored on your computer. For example, it is unable to delete residual entries in the system registry or files forgotten by a program you have installed. It is for the same reason that it is advisable to opt for a specific software designed for this task.
The programs we have selected in this list meet all the requirements to clean your computer of unnecessary files and optimize the complete system performance. These are completely safe and you will not need to be a computer expert to use them.
Iolo System Mechanic is considered by many to be the best program to clean and optimize your PC. Among its main features are its ability to remove programs and apps that are resistant to being deleted, clean your computer of residual files, free RAM and permanently delete the history of your Internet searches. But not everything ends here! Iolo System Mechanic can block programs that start on your computer without your consent and consume the resources of your computer without your knowledge.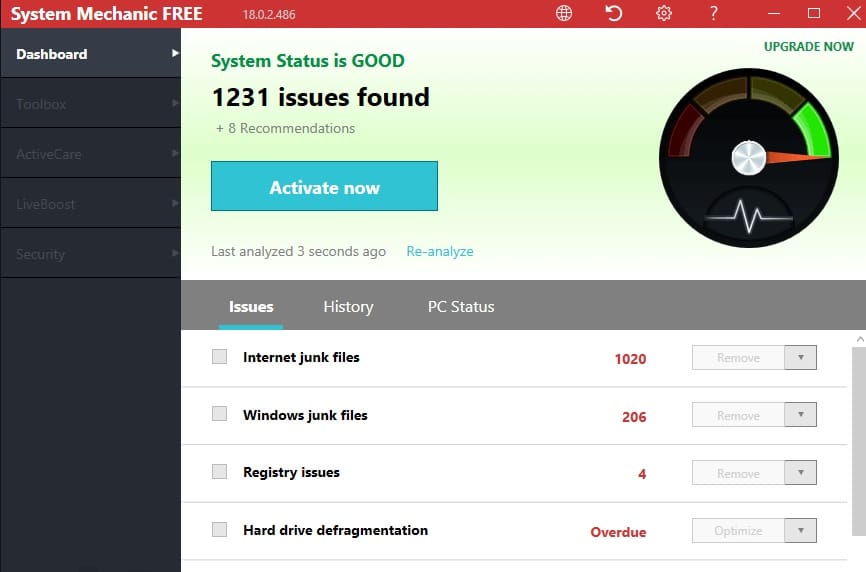 There are three versions of Iolo System Mechanic on the market, one completely free and two paid. The free version is excellent and with it you can improve the performance of your PC, increase the speed of your Internet connection, clean your computer of unnecessary files and ultimately, return your PC to its original state.
Its two paid versions, System Mechanic Pro and System Mechanic Ultimate Defense add the option to protect your computer from malware as well as keep your data privacy safe. In addition, both versions allow options such as formatting hard drives or being able to recover files that you had previously deleted.
If you are looking for a good program to clean your computer and improve the performance of your PC, we strongly recommend that you try the free version of Iolo System Mechanic.
Install
---
---
It is impossible to create a list of programs to clean your PC without mentioning CCleaner. This veteran program is already a legend among PC users who at some point wanted to improve the performance of their equipment by eliminating unnecessary files. And it is precisely the fact that CCleaner has been among us for so many years that makes it an indispensable. We are facing a program capable of cleaning and optimizing sections of our PC that other programs, both free and paid, cannot.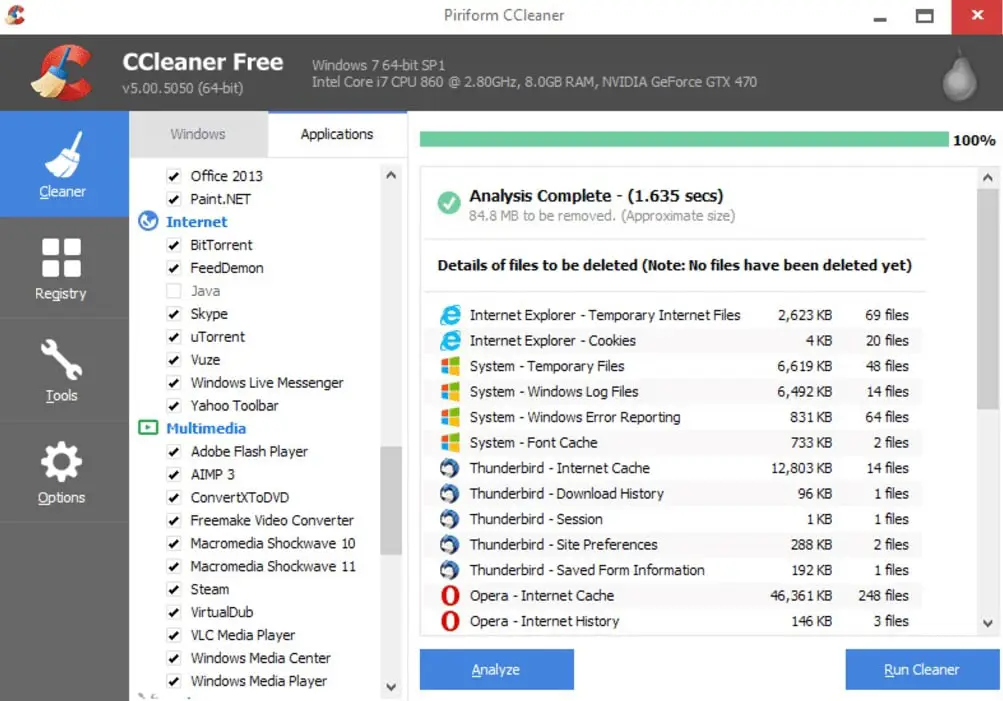 As with Iolo System Mechanic, CCleaner has both a free and a paid version. With the free version you can perform complete cleaning of your device, including important options such as deleting temporary files, clearing your search cache and history, removing programs from the start of your PC or repairing and removing unnecessary registry entries. Its paid version adds a twist offering real-time protection as well as the ability to schedule periodic cleaning of your equipment without the need for you to do anything.
Both versions of CCleaner are excellent, but if you only want to clean your computer and optimize it, we recommend that you first try the free version of this program.
Install
---
---
Ashampoo WinOptimizer is another great option to scan, clean and optimize your computer. This powerful program allows you to perform tasks as diverse as scanning your computer for residual files, eliminating broken entries in the operating system registry and even deleting the history and cookies of your sessions online. All this without many complications and with just a couple of clicks.
One of the strengths of Ashampoo WinOptimizer is its powerful system scan. It reviews all the ins and outs of your device and then gives you a complete report detailing all the errors found, what they are and the recommended steps to improve the performance of your device. This is especially important for all those people who, although they are lifelong PC users, do not have much knowledge of computer science.
Another point in favor of Ashampoo WinOptimizer is that in addition to offering you all the tools to clean your computer, it also gives you in the same program everything you need to keep your PC in shape. In this way you can defragment your PC or remove programs from the start of your computer without having to go to Windows own tools.
Install
---
---
IObit Advanced SystemCare Free is a program designed for new users or without computer skills who are looking for an efficient and hassle-free method to clean and optimize their PC. There are two versions of this same program, a free one offering the basic equipment cleaning options and a paid one with add-on's such as the ability to increase the speed with which we access the Internet, real-time optimization and the possibility of thorough analysis.
As we have already told you, IObit Advanced SystemCare Free has been designed with excellent usability in mind. In this way it is a very intuitive program with a very clean and easy to use interface. That is why it is recommended for all users who do not want problems or fear the idea of encountering the advanced options of, for example, CCleaner.
Its free version allows you to clean your computer of unnecessary files and folders, correct errors in the registry of your operating system as well as errors in the hard disk. All this in a simple and uncomplicated way.
Install
---
---
AVG TuneUp is a complete suite both to clean your PC and to optimize it. It offers all the necessary tools to improve the overall performance of your equipment, leaving it as clean and fast as the day you bought it.
As usual in this type of program, there is both a free version of AVG PC TuneUp and a paid version. However, unlike the rest of the programs on this list, the free version of AVG PC TuneUp will not allow us to repair our equipment but will only let us scan it to detect all its problems. If we want to clean or improve our equipment, we will need to purchase a paid license. Do not let this discourage you for that, because AVG PC TuneUp offers you 60 days free to try all its features before making any payment.
AVG PC TuneUp includes such interesting options as the possibility of programming an automatic routine of cleaning your computer, defragmenting and accelerating the performance of your PC, cleaning the operating system registry as well as detecting duplicate files or stopping unused programs that are not in use. background assets. While the fact that you must acquire a license can throw you back, it is worth trying for free for 60 days.
Install
---
---
To finish our list, we want to recommend SlimCleaner Free, another very good option both to clean your PC and to optimize its performance. This can clean your PC of unnecessary files as well as tidy up the Windows registry and offer in the same space tools as interesting as the hard disk defragmenter.
An interesting point of SlimCleaner compared to the rest of the programs on this list is that it will not only inform you of the files to be deleted from your computer and options to increase the operating system's performance. The program includes an alert system that will inform you about any suspicious program that is on your computer or that you want to start without your consent as well as keep you alert to the operation of your antivirus software.
There are two versions of SlimCleaner in the market, one free and one paid. The free one includes all the necessary tools to clean your computer, however it lacks its useful alert system. This should not be a problem if you have a good antivirus installed on your computer.
We hope that our selection of programs to clean your PC will help you keep your computer in an optimal state. Any questions you may have about each of these programs or if you want to add any more to the list, please share it with us in the comments section.
Install
---
---