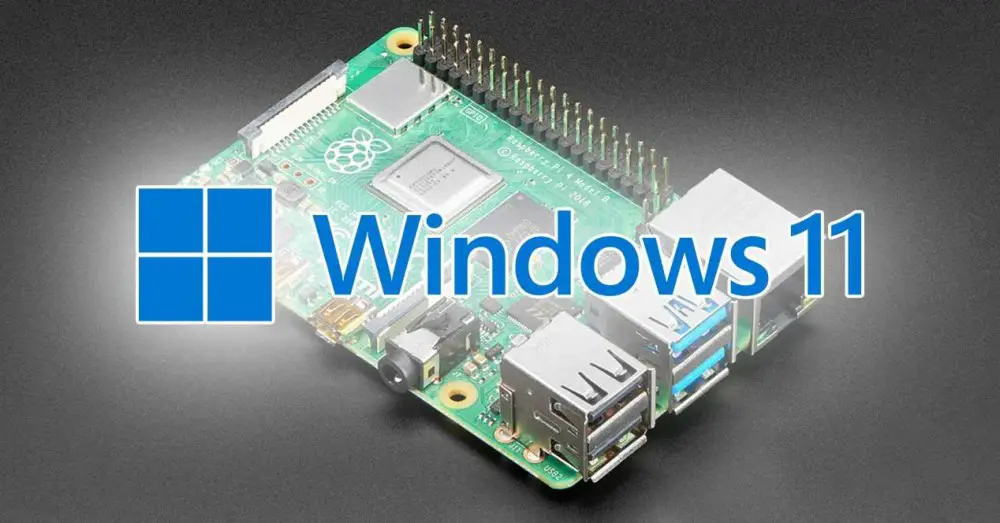 Yesterday we learned that a user had managed to run Windows 11 on a Lumia 950 XL mobile six years ago, with a Snapdragon 810 processor. Now, another user has managed to install Windows 11 on a Raspberry Pi 4 and run it, demonstrating that the hardware limitations that Microsoft will introduce do not compensate.
Microsoft claims that with TPM 2.0 malware infections drop by 60%, and that drivers cause fewer compatibility issues. In exchange for forcing a computer to be compatible with this function, we find that thousands, and even millions of people are going to be forced to renew perfectly functional computers, which can have very negative effects on the environment.
Windows 11 on a Raspberry Pi 4 with the ARM version
And users, put to show how much they are wrong, are running Windows 11 on all kinds of devices. We have already seen how for example the operating system runs smoothly on computers with 4th generation Intel processors, and even laptops with 3rd generation Intel chips, and now they have run the operating system on a Raspberry Pi 4.
This version is much more comfortable to use than the mobile one, where the Lumia was jerky and had very long charging times. With a Raspberry Pi the user experience is much more fluid and comfortable, since it is more powerful, and Windows 11 is also compiled natively with its corresponding version of ARM.
The versions of Windows 11 that are available on the Dev Channel do not cover the installation through minimum requirements, since Microsoft wants to continue collecting data to see how compatible the system is with older computers, and if using them has negative effects on the experience use and safety. This will allow them to make a decision for the launch.
Therefore, it would not be strange for the final versions to see how compatibility is limited, although there will surely be ways to bypass the blockade. Even if there are hardware limitations in the final version , users will only have to install the development builds released these months if they want to enjoy Windows 11.
Little news that we are getting to know
Beyond these extreme tests, these days we are also learning about some of the small new features of the system that have not been announced, but that users are discovering using the official build for developers. Among them we find that Windows 11 will show us in the updates how long it will take for the computer to restart to install an update, which will even be shown in the restart button itself.
We also find a new progress bar when copying files , which is not only seen in the foreground, but the icon is also seen below. In Windows 10, color took up all the space in a window and it was easy to see how much was left to complete the download. However, since they are now only icons, they have had to resort to this new solution.
However, not all are joys, and there are some users who have noticed the new button to show desktop to the right of the clock, which is much thinner than the one we found in Windows 10, and it becomes more difficult to press it.
Microsoft is currently making interface changes because, curiously, the kernel of the operating system is already ready and will be the same one that will arrive at the end of the year. The company has changed the way updates are released, and this allows manufacturers to adapt earlier to new versions of the system, and reduce the number of errors. Therefore, there will only be changes to the interface or usability through modifications to the functions.