If you are looking for a mobile that resists the intensive use that you give your phone, but above all to extreme conditions such as falls, shocks, temperature changes, scratches or any other situation that may arise, it is even waterproof. , we are going to comment on some models that are worth knowing for their high resistance, everything that can be presented to you. They won't break you even if they want to.
The anti clumsy test, the perfect solution if you change screens or mobiles every so often or if you work in the field, industry or in any profession in which your mobile can be in danger. Rugged mobiles are your solution, and these will offer you the maximum benefits taking into account your needs, budget and aesthetic tastes.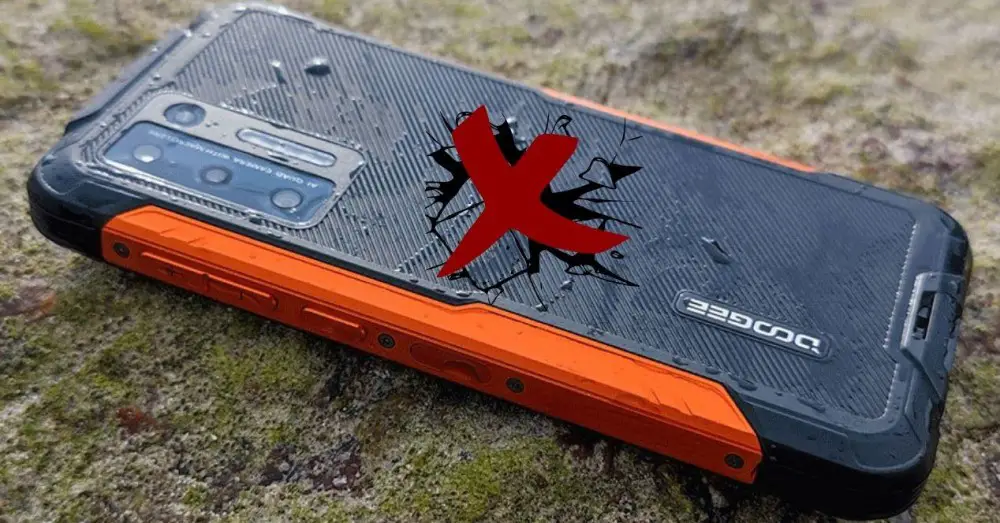 Blackview BV4900 Pro, cheap and with NFC
Blackview BV4900 Pro is a Dual SIM mobile phone with NFC Android 10 with a very resistant 5.7-inch screen that has 4 GB of RAM and 64 GB of internal storage. It has IP68 resistance and military protection level, so it can withstand 1.5 meters of water for half an hour, withstands drops of 1.5 meters and gives you maximum durability. It has rubber on all 4 angles so it won't break even if you throw it away.
Its processor is Octa-Core MediaTek P22 and it has an excellent 5580 mAh battery with the possibility of reverse charging. It's the perfect phone for playing games and enjoying lag-free multitasking. It is equipped with GPS, GLONASS, BEIDOU and GALILEO so you can go wherever you want without fear of getting lost. It also has Bluetooth 5.0 connectivity.
It has a triple camera system with a 13 MP main camera, 2 auxiliary 2 MP cameras and a 5 MP front camera. In addition, it has Face ID to unlock it instantly. A cheap model that does not disappoint.
OUKITEL WP5, made to last in any situation
A classic and a mobile that will not disappoint you wherever you go. It is a 5.5-inch rugged mobile with 4 GB of RAM, 32 GB of storage and a high battery life thanks to the 8000 mAh battery. It is the perfect phone if you like to do sports outdoors or have a job where your phone could be damaged, such as industry or forest. Also if you are tired of your phone breaking every few months due to a silly fall.
It has an extra resistant, reliable and solid design. It is waterproof, dustproof, high and low temperature resistance, and can withstand 1.5 meters drop. It is equipped with Corning Gorilla Glass, 5 times more resistant to shocks and scratches, with a quick access button to the camera, emergencies and more.
A phone with great appeal, low consumption Cortex A53 1.8 GHz processor and high autonomy. You can enjoy it listening to music for 43 hours or 12 hours of videos. In addition, you can take it wherever you want with its 4 super bright LED flashlights. Its main camera is 13 MP, the selfie camera is 5 MP and it has two more cameras of 5 and 2 MP.
DOOGEE S97 Pro, tough and powerful
DOOGEE S97 Pro is a very resistant 4G mobile with 8 GB of RAM and 128 GB of autonomy. It is an off-road phone that you can take wherever you want, with Android 11. Its glass is shockproof, with 6.39-inch Corning Gorilla Glass , it is waterproof with IP68 / IP69K / MIL-STD-810G certifications. Its perfect combination of resistant metal and soft rubber material will make it last through all your battles. It is resistant to water and shocks and has a rangefinder of 40 meters .
Its battery autonomy is 8500 mAh to provide you with a high battery autonomy. In addition, you can charge it in an hour with its 33W fast charge and it has 10W wireless charging. It also has NFC for quick payments or whatever you want.
With a high-end Helio G95 Octa-Core processor, you can easily enjoy everything you use on your mobile, with high-speed video transfers and multitasking, so you can enjoy even the most demanding mobiles. Its AI quad camera has a 48MP main camera , 8MP ultra wide angle camera, 130° ultra clear ultra wide angle camera and provides 4K video recording. With its 16MP front camera you will have very good selfies.
Galaxy XCover Pro Enterprise Edition, a Samsung
It is an excellent Samsung phone that stands out for its high resistance. It has a 6.3-inch FHD screen with IP68 and MIL-STD 810G certification in a very slim design. Its protection is Gorilla Glass 5 for greater durability with an excellent viewing experience.
It features a 25 MP and 8 MP dual camera with a 13 MP selfie camera. Its battery life is not one of the longest, with 4050 mAh, but it will last you all day and it has a fast charging system. It is a high performance phone ready for any situation, withstanding water and dust and resisting harsh environments.
One of its main attractions and that makes us include it in this selection is that it is a Samsung model and it provides you with its quality and reliability, as well as guarantees. If you are a fan of the brand and you are looking for a phone prepared to resist wherever you go, this is the one you are looking for.
Cyber 7 from Hotwav, a very resistant 5G
The Cyber 7 model stands out for having high performance and high efficiency in a resistant model. It has 8 GB of RAM, 128 GB of expandable internal storage and also has 5G connectivity for maximum Internet connection speed, something in which this type of phone falters the most. It is a 6.3-inch Full HD model with an IP68 resistance level and an anti-shock test. It is resistant to dust and falls, also to water and to high and low temperatures.
It has a 48 MP main camera and 20 MP night vision. Its other cameras are a 2 MP macro and an 8 MP wide angle. Its front camera is 32 MP. It has several capture modes.
Its processor is MediaTek Dimensity 700 5G Chipset with Android 11. It has excellent battery life thanks to its 8280 mAh with 18W fast charge and OTG reverse charge. You can even use it as a power bank for other devices. It has Bluetooth 5.1, GPS+BEIDOU+GLONASS+Galileo, NFC and Face ID.