Sony remains the only video game company that stands firm with its commitment to virtual reality. If in October 2016 it launched the first model for PS4 of its PS VR, now we see the second generation arrive on the horizon , already fully focused on its new PS5. So if you think so, and while the new models arrive in stores, we're going to review everything you can play right now on the Japanese platform.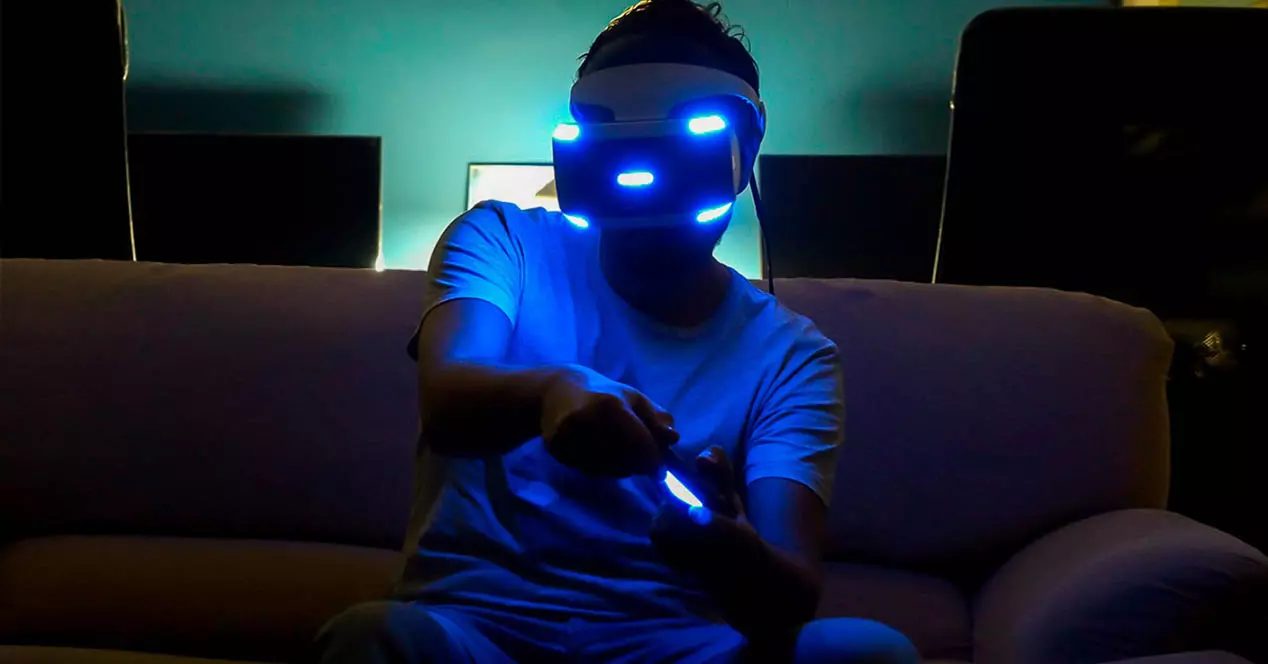 Haven't tried virtual reality?
The truth is that there are many players who, at first, do not take this VR alternative into account to have a good time in front of their console, but it is one of those experiences that everyone who has tried it strongly recommends. We already know that some developments focused on this technology are not as complete or complex as in the case of a good open world sandbox , but we can tell you that the moment we set foot in one of those virtual worlds, it is very difficult not to To repeat.
Regardless, we do have extraordinarily interesting examples of immersive titles that bring about mind-blowing new gameplay mechanics, the kind that you can't experience without putting on a headset like Sony's PS VR and holding on tight to your PS Move to get you into the adventure. . So if you think so, we are going to try to convince you of the benefits of this entertainment alternative by compiling the best games that you can enjoy right now, and that are the spearhead of a revolution that seems to be always on the verge of exploding and that , different reasons, never finish doing it. Let's go there!
10 amazing games for PlayStation VR
The catalog of games available for PlayStation VR is quite extensive and surely you have been tempted at some point to make the leap to VR. Or the same thing you are waiting to see what happens with the PS5 PS VR 2 that, in the absence of confirmation, it is very possible that practically all the games that we are going to list you can continue to use, so any money you spend you won't be throwing it away.
Also, if you have the PS4 virtual reality glasses and have recently purchased a PS5, remember that you can use them on the next-gen by asking Sony for the adapter cable that allows you to connect the PS Camera to the new model completely free of charge. You just have to look for the serial number of your PS VR (on the HDMI output module) and fill out the form at this link so that the office in Spain will send it to your home in a few days.
But what is promised is debt: here are 10 incredible games to enjoy virtual reality with your PS VR.
Astro Bot Rescue Mission
If we put it in the first place it is because, by far, it is the best game that you are going to find on PS VR . Not because of its careful graphic appearance, but because of the VR experience it offers and the fun and original mechanics it offers us. It is, in short, the paradigm of what VR can offer as a difference compared to a conventional video game. Control Astro through missions with tests, games of skill and even final bosses.
Moss
In this case , Moss is developed by Polyarc, and it is a title that mixes action, adventure, and puzzles in which we will have to give orders to Quill, a small rodent that will accompany us on our adventure through the kingdoms of Moss. Without a doubt, it is one of the best that we can experience with a PS VR.
Star Wars Squadrons
If you want to experience what it feels like to sit in the cockpit of an X-Wing, Y-Wing, B-Wing or any TIE Fighter model, you should definitely try this Star Wars Squadrons . It is a real wonder, since it will allow us to complete missions in space shooting down enemies or protecting convoys from those that cross outer space while we communicate with the space command to receive new instructions. If this game doesn't convince you to believe in VR, what can?
Gran Turismo Sport
What to say about the father of driving games on PlayStation, who with one of the PS4 versions decided to introduce support for virtual reality and that it fits like a glove. Now, finally, the perspective from inside the car takes on epic overtones and a truly surprising realism. So if you don't want to miss out on this unique experience, grab your PS VR now. Worth…
Resident Evil 7: Biohazard
This umpteenth installment was a radical change within the saga, as Capcom dared to introduce a new first-person perspective only suitable for the bravest players, because few can stand it. The degree of immersion that it achieves is such that each scare becomes a tough test of resistance for our hearts. If you want to experience this incredible saga in a different way, don't hesitate: get yourself a PS VR.
Ace Combat 7
Another of the great games that you have available for PS VR and that suppose an amazing experience when you try it. Now, finally, we can carry out Namco's air battles from inside the cockpit, looking at the avionics instruments and handling every detail to locate the fighters that are stalking us. Turn your head, look to the sides where the enemy awaits us and attack with everything you have at hand. An unforgettable experience that you can only achieve thanks to virtual reality.
Wipeout VR
What to say about one of the classic games that have defined PlayStation since its first generation. For the first time in the saga you will be able to get inside the ships themselves and experience the sensation of speed in a way that it is not possible to experience without the help of virtual reality. A dream come true for the millions of gamers who have ever played with one of these wonders that first hit the market more than 25 years ago thanks to a company known as Psygnosis. Do you remember?
Minecraft
We all know Minecraft and much of what we can do with it, but it's not until you try it in VR that you understand the magnitude of what moves within its virtual universes. Revisit the Mojang classic in a way you never imagined being able to do because now you won't be limited to just playing, but living and feeling part of a world that has nothing to do with the real thing. An experience that you should not miss and that shows you the power of virtual reality.
Farpoint
It arrived at the time as one of the great bets of PS VR thanks to its status as a shooter and the fact that it could be purchased with an accessory that turns our PS Move into a rifle like the one in the game itself. It is very spectacular and fun and unique but we cannot move freely from the stage, only from one point to another that we mark. Of the best.
Iron Man VR
This game is an attempt to recreate how Iron Man feels when he saves the world from those villains that are always lurking around. Thanks to the PS Move we will be able to control each of his hands to shoot, fly faster or dodge the shots that are thrown at us while JARVIS does not stop offering us information and showing us graphics in front of our eyes. Its development is not that it is very original, but for Marvel fans it will be, without a doubt, the closest experience to feeling like the famous man of steel from the UCM movies.
And others that you can also take into account
Although the 10 games that we leave you above are the best (in our opinion, of course), then we recommend other alternatives that you might also like. These are.
Rez Infinite
If you're looking for a visual experience accompanied by excellent spatial sound (key to total immersion), then Rez Infinite may be just what you need . Remastered after 15 years since its launch on PS2, this version for PlayStation VR will immerse you even more in this peculiar psychedelic shooter created by the great Tetsuya Mizuguchi, father of sagas like Sega Rally .
Tetris effect
There is no game more classic than Tetris and on this occasion, the fun is in seeing how the chips fall in front of us with overwhelming realism. It is not the same experience as that superb Blockout , but without a doubt that this jump to the virtual reality of Aleksei Pázhitnov's game is an achievement that only those who have a PS VR will be able to experience. Don't you envy?
Beat Saber
This is the Guitar Hero for vocational drummers in virtual reality. A game with which you only need to see its presentation trailer to see how addictive it can be. And it is that, who has not ever dreamed of being able to play drums with lightsabers? Don't let the rhythm stop.
SUPER HOT VR
This very interesting shooter offers us a game mode in which time only passes while we move , thus being able to anticipate events and kill enemies intelligently. There is a normal version and a special version for PlayStation VR, which is the one that we leave you in the link below.
Eagleflight
Lastly, we bring you a game that is also an experience in itself because it invites us to accompany an imposing eagle on its flight that glides over cities like Paris and really beautiful settings. Although it has certain gameplay elements that challenge us, the most rewarding thing is enjoying the rides from above, looking at the extraordinary landscapes from any imaginable perspective.