Downloading videos from the Internet from websites like Facebook, Instagram, Vimeo or YouTube is easier than you might think. And even if at first glance the streaming websites seem to be proof of downloads, if you are aware, it's till possible to have that video or audio track saved on your PC. How? Very simple, with the help of extensions for Google Chrome.
Desktop software like
WinX HD Video Converter Deluxe
or
VideoHunter
is also a handy tool to download online videos. It can download 4K and HD videos from YouTube, Facebook,
Twitter
, Instagram and 1000+ sites. What's better, it can convert the video format to make it compatible with your devices. The operations are pretty easy, just copy and paste the video URL to the software, and the video could be downloaded immediately.
Thanks to a Chrome extension you can get those YouTube videos to download to your computer in just a few seconds. However, not all extensions for downloading videos are equally safe and efficient, so you may not know which one to choose first.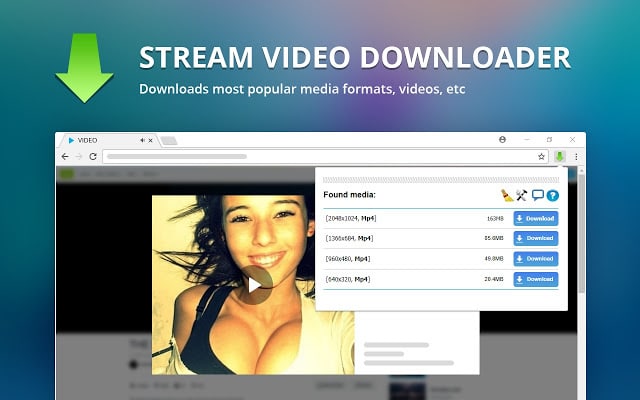 In today's article we will share with you a selection of the ones we consider the 7 most interesting and useful video downloader options to help you download videos from the Internet without problems.
The 7 best video downloader Chrome extensions to download videos from any website
We have all wanted to save a video of a streaming service without knowing very well how to do it. Don't worry, here is the formula to download videos and music files from any website without programs. The process is as simple as using the Chrome extensions that we leave below.
Downloading both common and Flash videos from the Internet is easy with Flash Video Downloader. The program is able to download 99% of the content found on the Internet in a simple way.


To download any video from a web page, simply click on the extension button next to the toolbar. You can choose between several quality options before downloading the file, which will help you save space on your PC's hard drive.
Install
For many, VLC Video Downloader is the best extension of the entire Chrome Web Store from which you can download videos online. This allows you to download both individual videos and complete playlists in just a few clicks.
VLC Video Downloader allows you to download videos in the most popular formats of the moment (.FLV, .MP4, .AVI, .ASF, .MPEG, etc.) as well as audio tracks. As the only negative point is that this extension, following Google regulations, does not allow you to download videos from YouTube. However, it works without problem on pages like Dailymotion or Vimeo.
Install
If, in addition to downloading files, you also want to watch content in streaming format, use the vGet extension. This is able to detect a video and then share it with televisions that use DLNA technology to watch it comfortably from the sofa at home. This way, you will avoid having to download the file, put it on a USB flash drive and then see if your TV is capable of playing that content.
As its developers point out, the extension is very light and will not affect the performance of your equipment. This will only work when you activate its button, thus avoiding slowing down your Internet sessions. vGet Extension can also download videos, choosing the type and quality of the file, thus avoiding mistakenly saving a file that is too heavy for your PC.
Install
The Flash Video Downloader is another excellent option to download videos from the Internet using a convenient extension for your browser. This is very easy to use but, in a way, similar to VLC Video Downloader, it does not allow you to download videos from YouTube. However, it is excellent if you want to download videos from social networks such as Facebook, Instagram or Twitter.
Using The Flash Video Downloader is very simple. Simply add the extension to Chrome, visit the page of the video you want to save and click on the download button that will appear when you click on the extension icon. In addition to being really useful, The Flash Video Downloader uses ultralight code, so it will never slow down your Internet sessions. Ideal if you don't have in mind download YouTube videos.
Install
Video DownloadHelper is part of the popular Firefox extension with the same name. Like many other applications on this list, Video DownloadHelper allows you to download not only videos from Facebook, but also from many other Internet sources such as Vimeo or Dailymotion.
The extension also offers numerous types of download options. So, you can save your files in formats as popular as MP4, 3GPP, WEBM, as well as choose between several types of quality (standard definition, high definition, among others).
Install
If you want to create a list of videos without having to download them to your computer, then Video Downloader Professional can be a good option. This extension gives you quick access to the content you are interested in without having to return to the original page of each site. You will simply need to enter the URL and enjoy the video from the same extension.
Video Downloader Professional not only plays videos, but also downloads those you choose to your hard drive in many different formats and qualities. But not everything ends here! The extension is capable of playing any MP4 file directly on your TV through Chromecast. This makes it a truly ideal extension for all Google users.
Install