Lowi is an MVNO that uses Vodafone coverage throughout the Spanish territory that has been trying for years to find its place in the such competitive telecommunications sector. For this, it offers the services most demanded by consumers, such as the possibility of hiring a fiber line, a mobile line to make unlimited calls and navigate according to our needs, or the combination of both services with fiber and mobile rates.
Within the virtual mobile operator market, Lowi has stood out for being the first to offer its customers to share megabytes between several lines and accumulate data that we have not spent in the current month. One of its most outstanding promotions, which is repeated every summer, is that the company gives all its users a bonus of gigabytes so that they can enjoy during the summer period. This past summer the promotion was 60 gigs.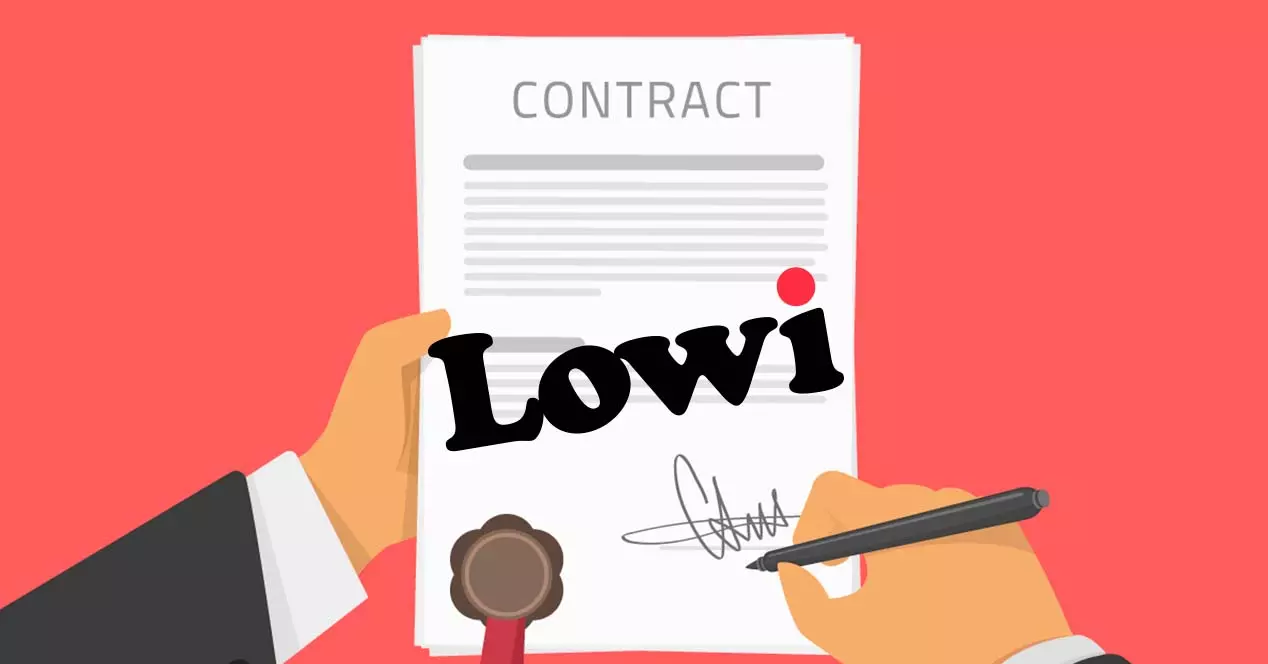 Issues to consider before hiring
Like all operators, Lowi has its conditions and these are some of the things that you should take into account before hiring any of its rates.
Portability
When we decide to change phone companies one of the first words we hear is "portability." Switching from one company to another is a tedious step for many users. What guarantees the portability of a line is that when we decide to change companies we keep the same phone number.
The portability process in Lowi is not done until the new SIM arrives to avoid us running out of line. In the case of having permanence with our old company, we will have to ask if it is worth paying penalties. Lowi takes between 24 and 48 hours to send us our new SIM so that we can activate it by receiving an SMS. Until we have the SIM card, effective portability will not be done. The process is very simple and can be done through their website or by calling the free customer service number 1456.
WeLowi
Lowi has a referral program called WeLowi that allows its customers to recommend Lowi products to anyone, family, friend or acquaintance. The fact that we recommend any of the company's products to someone brings us some other benefit. Lowi doubled his rewards and now they are active for a limited time and for each recommendation we make we can get up to 184 euros.
In any of the mobile rates offered by Lowi we can accumulate and share megabytes, an ideal option if the 35 GB to navigate and unlimited calls offered by the company for 19.95 euros per month is not enough. In addition, consulting the megabytes of our rate with Lowi is very simple. All you have to do is download its mobile application or through My Lowi on its website. The transfer of gigs between Lowi mobiles is immediate and can be done at any time.
Additional lines
Lowi allows us to add additional lines to our fiber and mobile rate at a very competitive price. Lowi's fiber and mobile rates range from 100 MB to 600 MB with 3 different options:
100 MB + 8 GB mobile line for 29.95 euros per month
300 MB + mobile line with 20 GB for 34.95 euros per month
600 MB + mobile line with 30 GB for 39.95 euros per month
All options have unlimited calls and to all of them you can add an additional mobile line from 2.95 euros. It should be noted that Lowi offers a quite different option from the rest of the operators and that is that we can contract fiber and mobile by adding up to 5 additional lines.
Permanence
Lowi has no permanence in their mobile rates and in the fiber service they only have a permanence of 3 months when the usual in large operators is usually 12 months. Of course, when hiring fiber the first month we will have to pay 70 euros for the router installation fee. In turn, the fiber service is subject to availability of geographical coverage, which in this case, being an MVNO, uses the coverage of Vodafone.
It does not have a fixed
The Vodafone virtual does not have the option of having a landline phone. The company alleges that having unlimited calls on your mobile does not make it so necessary to have a landline. Now, it is an aspect to take into account when hiring any of its fiber and mobile rates, since if we want to have a fixed telephone at home, Lowi is an operator that will not be able to offer it to us.
HFC limitations
As we have already explained previously, Lowi uses the coverage of Vodafone and this, in addition to advantages, also has some disadvantages. When Vodafone bought ONO, it did not have FTTH but had HFC. Right now Vodafone has around 10 million homes with ONO cable, which means that if we are in the HFC footprint we will not have symmetry, since Vodafone only has some homes equipped with its own FTTH reaching more than 20 million homes, but with agreements with Orange or Movistar's wholesale access with FTTH. If we are among the households that have HFCs, we will not be able to count on symmetric speed due to the limitations of HFCs. Therefore, Lowi's fiber service is subject to geographic coverage availability.